Welcome to the Rocket Monkeys Wiki
164 pages since January 18, 2013
About Rocket Monkeys
Rocket Monkeys is a Canadian animated television show that premiered on Teletoon on January 10, 2013. The show has also premiered in the US on Nickelodeon on March 4, 2013, in Japanese Premier Date is on October 23, 2013 new episodes comes weekends (October 2013 - December 2013), Fridays (January 2014), Monday to Friday (March 2014 and June 2014) in Japanese Series it's different version of characters named Darwin and Licho (aka. Green Rocket Monkey & Yellow Rocket Monkey) on NHK (Nippon Hoso Kyokai) also Japan is named: スペースサル: モンキーノートのスペースアドベンチャー (Translation: Space Monkeys: Space Adventure of the Monkeynaut) [This show in Japanese has ended on September 2nd, 2014]. The show revolves around two monkey astronauts, Gus and Wally with their robot YAY-OK, who complete missions while goofing off and fighting villains such as Lord Peel, The Space Gorillas, Nefarious and Monkevil.
Well, thats what they want you to think. Rocket Monkeys is by far the worst cartoon ever made. All of the characters have no personality, and the plots are boring. the art style looks absolutely atrocious and i feel bad for all of the voice actors having to screech into the microphones. However, slumbius and dr jean are our one and only gods. we worship them, and them only. join our cult, child
Recent edits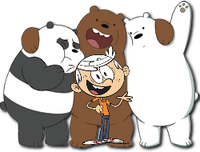 Community content is available under
CC-BY-SA
unless otherwise noted.